Designing flags
Advertising flags – design yoursefl or use our team's support
I. In carrying out the project on its own does not incur any costs.
Standard rectangular flags projects need to be done within such graphic programs as COREL or ADOBE package. For order execution we accept only closed production files. We do not accept opened files ai, .cdr, .indd, .psd, .ps. You mustn't use overprints. Vector graphics needs to be saved as EPS or PDF format. With vector files, you need to change your font to italics. If vector files include bitmaps, they need to be saved as a file instead of linked. With vector files, you also need to include a screenshot saved as JPG format. Please, save the raster graphics as TIF format, with LZW compaction – spłaszczony file.
Please, prepare your files in 1:1 or 1:10 scale, with resolution dependent on size of piece:
up to 2 m2 -> 150 dpi
2-5 m2 -> 80 dpi
5-20 m2 -> 50 dpi
above 20 m2 -> 30 dpi
In your files, do not include oczko, descriptions, dimensions, cut tags, coloristic scale etc. You need to prepare your files using CMYK coloristic. In case of additional colors PANTONE Solid Coated, please set a chosen color in the file, and save it as PDF or EPS format. If precise color mapping is in demand, you need to deliver the PROOF. Due to technology, perfect mapping of some colors is impossible. It is especially the case with some of the PANTONE colors, which are inaccessible through digital print. PANTONE colors accessible through digital print may diverge a tone from a model. In order to achieve a proper black color depth, you need to set values: SUBLIMATION: C:0 M:0 Y:O K:100. Portable flag project (winder type) should be done in our template with particular inclusion of save field.

Portable flag project (winder type) should be done in our template
| | | | |
| --- | --- | --- | --- |
| COREL template | size S / M / L | | |
| ADOBE: EPS | size S 2,4 m | size M 3,5m | size L 4,7m |
II. If you are unable to complete the project - we will do it for you
Basic project: in price.
Advanced project: quotation on request.
Assumptions: you have your logo in a vectorial graphic and you want your flag only with a logo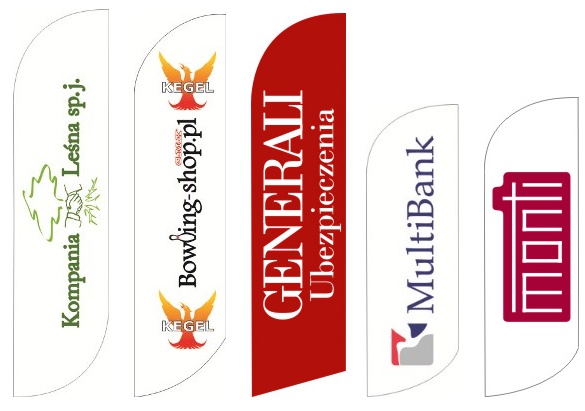 Basic project: in price.
Advanced project: quotation on request.
We make the project according your needs